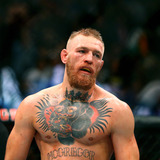 Conor McGregor means business after losing to Nate Diaz at UFC 196 earlier this month. According to a report, McGregor has cancelled his planned appearance in a Vin Diesel movie so he can concentrate on fighting. As I mentioned on @SportsCenter, I'm told McGregor has canceled his planned appearance in Vin Diesel's XXX film. Doesn't want distraction. — Brett Okamoto (@bokamotoESPN...
Fresh off his 13 second knockout of Jose Aldo at UFC 194, Conor McGregor is said to be appearing in the latest installment of "xXx" with Vin Diesel. McGregor has said that Hollywood has been blowin' him up for some time now, but it seems that Diesel is the one that has finally convinced him to make his debut. Of course, UFC fighters have appeared alongside Diesel before, with...
Vin Diesel openly admits that he's an overprotective father when it comes to his seven-year old daughter Hania Riley, but his paranoia has subsided just slightly thanks to judo lessons from UFC bantamweight champion Ronda Rousey.Diesel turned to his 'Furious 7' co-star for help when he decided he wanted his daughter to be prepared for anything that could possibly happen to her.While...
How many more absolutely bananas Fast and Furious movies should we expect to see in our lifetime? Not one, not two, but three new Fast and Furious sequels are apparently on the horizon, at least according to franchise star/world's low-key worst actor Vin Diesel. That's right folks, there is going to be a Fast & Furious 10, which will most likely be titled Furious X: Why...
It's been a long ride. For Fast and Furious fans, the seven films have provided joy and heartbreak, along with some thrilling stunts. The films have created a loyal fan-base who practically live for the action-filled adventures. Fans have also been curious to see if there will be any more films to grace the screens. Sensing the anxiousness of the fan-base, Vin Diesel took to...
Kyle Whittingham and his Utah Utes coaching staff are doing their best to ramp up recruiting efforts for the football team. In their latest attempt, Whittingham and company channeled their inner Vin Diesel for a "Furious 7″ spoof video that the coaching staff decided to use to highlight their recruiting efforts. In the video, we see the Utah Utes coaching staff driving around...
Last Week, Vin Diesel announced the birth of his new daughter with longtime girlfriend Paloma Jimenez. This morning, Diesel announced her name on the Today show: Pauline. Paul Walker, a dear friend of Diesel and his co-star in the Fast and Furious films, died in a car crash on November 30, 2013. Diesel said, "He was in the room. There's no other person that I was thinking about...
It's shaping up as a big year for Vin Diesel. Furious 7 is on its way to theaters, and the action star also has a high-profile fantasy pic debuting, titled The
So much for all of those infamous ass kickings. Vin Diesel totally shredded his reputation when debuting his latest Vinbook: a Valentine's Day karaoke video, where he belts out Gwen Stefani and Adam Levine's cheesy love ballad "My Heart is Open." We're surprised he didn't break out and start bawling his eyes out. Sadly, this is far from his first time; the Fast and...
Paul Walker, veteran of over 30 films, was killed in a car crash today according to TMZ. The 40-year-old Walker, who made his claim to fame opposite Vin Diesel in the wildly popular 'The Fast and the Furious' franchise, died when his Porsche crashed into a tree in SoCal on Saturday afternoon. The latest is that Walker was in Santa Clarita to support his Philippines typhoon...
MORE STORIES >>
Entertainment News

Delivered to your inbox

You'll also receive Yardbarker's daily Top 10, featuring the best sports stories from around the web. Customize your newsletter to get articles on your favorite sports and teams. And the best part? It's free!